Architectural Led Lighting Manufacturer in China
Since 2009 with One-Stop Service
Upward Outdoor Lighting is one of China's leading architectural outdoor led lighting manufacturers and suppliers since 2009.
We supplier of a wide range of outdoor led wall lights, led ingourd lights, led floodlight spotlights, led swimming pool lights,
architectural led landscape lighting, etc.
Within budget, we attempt to deliver your lighting fixtures on time and with exceptional quality.
Led Architectural Lighting for Outdoor and Indoor
Upward Lighting offers a wide variety of products to meet your every need. Whether you're looking for custom-made lights or standard models, for example: style, shape, light body color, beam angle, or emitting color, etc, we can take it for you!
Custom waterproof and durable outdoor led lights. Our products suit any outdoor project, from facades, gardens, yards, and landscapes to buildings, bridges, parking lots, sports fields, etc. For all your outdoor lighting needs, our product lines from led washer lights, outside wall lights, water fountain lights, sports lighting, led field lights, spike lights, etc.
Whether it's time to spruce up a shopping mall, hotel, retail store, or restaurant or create an inviting atmosphere in the home- we've got you covered. Our range includes surface downlights, recessed downlights, magnetic track lights, track lights, and led panel lights. Make every space special with light unlike any other today!
Why Choose Architectural Led Lighting from
Upward Lighting?
Upward Lighting is a manufacturer with more than 13 years of experience in manufacturing led outdoor lighting in China. We have a strong business team, a complete supply chain system, and an excellent workforce, which can provide a one-stop service and save you time and labor costs. We can design, manufacture, deliver, and guide installation according to your requirements.
Exquisite Craftsmanship: We take pride in our exceptional development and production teams who ensure that every job and workmanship is completed to our high standards.
Affordable Price: We maintain long-term and good cooperative relations with raw material suppliers, keep the most competitive prices for customers, and give each customer the most favorable transaction price so that our prices have an advantage over competitors. Win more orders and market share for each customer.
Satisfactory After-Sales Service: During the product warranty period, if the quality problem of the product itself causes the product not to work, a new product will be replaced for free, and the freight incurred by the replacement product will be borne, excluding human factors. Really let customers rest assured to buy the led lamps we produce.
Real Reviews from Real Customers
We take pride in serving hundreds of satisfied customers, and we're pleased to share some of their reviews.
"Upward Lighting's outdoor wall washer lights have brought our building to life with their warm and inviting glow. The modern and sophisticated look they create is a testament to the product's quality. The team at Upward Lighting was professional and easy to work with, and we appreciate the energy efficiency of the LED lights used in the project. We highly recommend Upward Lighting for all your outdoor lighting needs."
"The team at Upward Lighting exceeded our expectations with their exceptional customer service and high-quality outdoor floodlights. The warm and inviting glow they create is breathtaking, and the energy efficiency of the LED lights has been a game-changer. Upward Lighting is a company you can trust to deliver the best outdoor lighting solutions."
"We can't say enough good things about Upward Lighting. Their outdoor wall lights' warm and inviting glow has transformed our patio into a relaxing and inviting space. The energy efficiency of the LED lights used in their products has been a huge benefit, and the team at Upward Lighting was fantastic to work with. We recommend them to anyone looking for top-quality outdoor lighting solutions."
"Our outdoor lighting project included inground uplights, outdoor wall washers, and pathway lights. The team at Upward Lighting was able to provide a design that was both functional and beautiful. The quality of the materials used and the attention to detail were impressive. The project was completed on time and within budget."
Knowledge of Led Lighting
Upward Lighting has a diverse portfolio, with experience in multiple industries including residential, commercial, municipal, transportation, and entertainment. They have successfully completed projects in each of these sectors, delivering top-notch lighting solutions that meet the unique requirements of each client.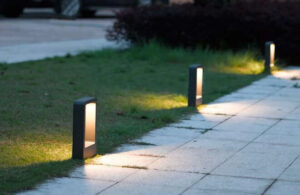 Bollard lighting has become an indispensable feature in landscape applications, crucial in improving the area's security and ambiance. If you're seeking guidance on selecting the
Read More »
One of the most significant advancements in lighting technology in recent years is the widespread adoption of LED lighting. Compared to traditional lighting options, LED
Read More »
Due to their energy efficiency, extended lifespan, and versatility, LED floodlights and spotlights have gained popularity as lighting fixtures. LED floodlights are designed to provide
Read More »
Get Started With Upward Lighting Now!
China Outdoor Led Architectural Lighting Manufacturer Since 2009
FREE Test Sample / 5% OFF First Order