Architectural Floodlight Manufacturer
Upward Lighting is a leading manufacturer and supplier of high-grade led architectural floodlights in China. Our beautifully designed lighting solutions bring life to any building's facade. In addition, they come with 5 years warranty backed by our commitment to reliable quality and service!
Our team of experts can create the perfect light for any unique need that you may have – from custom products to specialized technical requirements. Tell us what you need, and we'll work on it.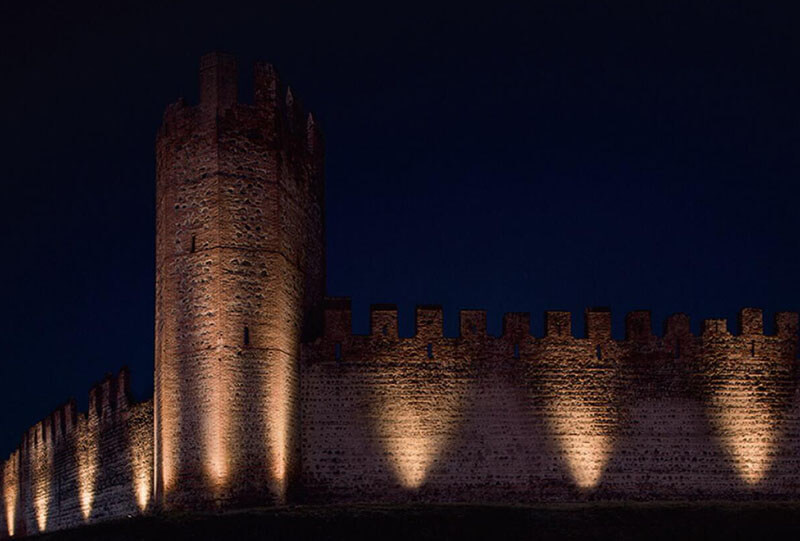 Featured LED Architectural Flood Lighting Fixtures
Architectural floodlights provide a powerful beam of uniformed brightness across large areas, all thanks to cutting-edge LED technology. Designed for spaces where steady and vibrant lighting is necessary – they are perfect additions to any setting!
Narrow Beam Compact Architectural Flood Lighting
Unleash the potential of your architectural space with Narrow Beam Compact Architectural Floodlighting, which provides a punchy and steady beam of light. Let this small luminary cast its rays on far-away heights to highlight unique details. Ask for more designs today!
Adjustable Architectural Facade Flood Lighting
Architectural facade flood lighting can bring vibrancy and brilliance to any building's exterior, transforming it into an illuminated masterpiece. The Led floodlighting, supported by a rugged frame for optimal flexibility and versatility, can help you craft the perfect design to fit your exact needs. Our experts are here to help you discover the perfect design and details for your unique requirements. Let us guide you towards creating an ideal solution that satisfies all of your specifications!
Architectural Outdoor Wall Washer Led Flood Lighting
Architectural outdoor wall washer led flood lighting is perfect for illuminating any exterior wall surface. We have a wide variety of sizes and designs to seamlessly match any architecture, from single-story homes up to large commercial structures, these lights give you the flexibility to choose a design that fits your architectural building seamlessly. Find more information about the designs we offer.
Large Scale Led Architectural Flood Lighting
You can illuminate any place with large-scale architectural flood lighting. With its innovative led technology, even the most diminutive fixtures can yield powerful illumination of massive spaces. With a range of designs to choose from, you can find the perfect source of illumination for even the largest areas! Find one today that meets your specific needs!
High-Performance Surface Washer Flood Lighting
Illuminate the largest structures with high-performance surface washer flood lighting. Our powerful led lights are made from robust metal, so they can handle anything Mother Nature throws at them and stay shining bright for years to come! Request your price quote today and bring a professional glow to any outdoor space.
View More Architectural Flood Lighting Fixtures
Our architectural led floodlights offer a multitude of sizes and designs, whether it's an off-the-shelf solution or something custom, we've covered you!. Our experienced team can help you decide which style best suits your preferences, from classic and timeless designs that preserve the feel of years past to custom-made pieces crafted just for you – Upward Lighting has something for everyone!
Outdoor Architectural Floodlighting Applications
Architects and engineers alike have recognized the superior LED technology in architectural floodlights, a lightweight yet powerful lighting solution for countless applications. With its small frame size and brilliant illumination capabilities, it's no wonder that these lights are highly sought after.
Terminals
Industrial Areas
Outdoor Landscapes
Stadiums and Sports Arenas
Warehouses and Storage Spaces
Building Facades and Huge Architectural Structures
Leader of Architectural Led Floodlighting Manufacturer and Supplier in China
Get creative with your architectural flood lighting needs from Upward Lighting! Our team of experts uses only the best materials and state-of-the art techniques to make sure you get products that are unrivaled. We have worked closely with leading architects, facade designers, and landscape professionals – so if a bespoke solution is what you're after we can help bring it together for an optimal outcome.
A Short Brief, Why Choose Upward Lighting?
Since 2009, Upward Lighting has been providing innovative lighting solutions for professionals in the architecture and landscape design industries. With decades of industry knowledge, our team is well-equipped to craft cutting-edge products that stand out from the crowd. By relentlessly pursuing excellence in led lighting, we've become renowned as one of the most reliable manufacturers China has to offer. 
Exceptional Quality Designs: Our lighting designs know no bounds – if your imagination can conjure up a concept, our experts will bring it to life. We love to push the boundaries of creativity and innovation!
Durability and functionality: Our customer service takes pride in delivering personalized experiences to each individual who contacts us. Whenever you call, you'll always be with a professional who can provide expertise and accommodate your unique requests.
Trusted customer services: Our customer service takes pride in delivering personalized experiences to each individual who contacts us. Whenever you call, you'll always be with a professional who can provide expertise and accommodate your unique requests.
What Questions Are Asked Frequently
We have compiled the frequently asked questions about our architectural floodlights for you. If you still have other concerns or questions, feel free to get in touch with our customer support. Our team of experts is always ready to assist.
What is Your MOQ For The Order?
No, we do not have a MOQ request, we accept orders with different quantities. Different quantities will be at different prices. It is flexible.
What Is The Lead Time On My Order?
Our usual lead time for led architectural floodlights is 10 to 12 business days. The shipping delivery time isn't included, so consider that when setting your deadline expectations. If a custom or bulk order it might take additional development time so build that into your timeline as well.
How Can I Get a Quote For The Lights?
Get in touch with our customer service team to get a quote. They are available 24/7. Just be ready with your specifications like size, color temperature, wattage, beam angle, etc. Give us your BOQ, and we'll guide you through the rest of the process.
Can I Get a Sample Before Place The Order?
Yes, this will take 3 to 7 business days to complete. For custom orders though you may need to be patient — they take a bit longer than that.
Can You Make Customized Led Architectural Flood Lighting?
Yes, we can customize led architectural floodlights for you. We need you to give us specific details like your design preference, power input, beam angles, wattage, etc. If you need further direction, our customer service can help you throughout the process.
The Warranty For Our Outdoor Architectural Floodlighting?
Quality is vital in everything that we do. This is why we are confident enough to provide our Architectural floodlights with a 5-year warranty. You can ensure that we only use high-quality materials and that every product is 100% tested before delivering to your specified location.
Need more info about our products or company? Our team is here to help – ask away and we'll be glad to provide you with answers!
How To Buy Architectural Led Floodlighting - A
Complete Buyer's Guide
High demand for Architectural floodlights is no surprise with their capacity to dramatically light up expansive areas. Whether it's a building facade or an entire stadium, their design offers the versatility you need. With their powerful beams and versatile designs, these lights can light anything from entire stadiums to building facades with ease! But when it comes to purchasing the correct lights, you may find yourself confused. Fear not, our experts have compiled this comprehensive guide so you know all of the important details before making your decision!
What is Architectural Flood Lighting?
Architectural floodlights are a type of lighting explicitly designed for buildings and other structures, the floodlights can light up large areas with their influential luminaries. Their primary use is in places that require regular and bright light, for example, columns, storage, stadiums, industries, building facades, walls, and statues. This lighting illuminates the features and elements that make up a building's façade, thus creating an eye-catching display. The goal is to highlight the unique design elements while also enhancing the aesthetic beauty of the building itself.
As technology progresses, the lighting world has seen a seismic shift away from traditional HID-based floodlights. LEDs have outshone their predecessor in many ways; not just simply providing substantial light, but also offering additional features that make them more advantageous than ever.
HIDs may offer bright lighting, initially. However, the number of hazardous elements such as mercury and other toxic substances make them at best a short-term option with their eventual dimming over time. LEDs, on the contrary, provide a superior experience when it comes to floodlighting in architecture due to their steadiness for long periods without compromising the intensity of light output.
Upward Lighting specializes in producing led architectural floodlighting for use in any situation. Our experienced team is dedicated to helping you select the perfect lighting and ensure it's properly installed. Thereby giving you peace of mind and confidence in your choice!
How to Choose Architectural Led Floodlights?
Multiple factors need to be kept in mind when purchasing architectural lighting from color temperature and efficiency to beam angle and lumens, etc. To ensure you find the perfect fit, our experts can help you identify which factors are essential in finding the ideal lighting solution for your needs.
There are various types of architectural floodlights. Architectural floodlighting help to light up larger areas. Most areas with ample space require architectural floodlights with wide beam angles. With diverse beam angles ranging, these lights can be customized for any space or landscape requirement.
Our experts suggest a 90-degree beam angle for areas with limited space to achieve maximum coverage. This makes sure that even the most compact places get complete illumination!
Narrow beam architectural floodlights provide an eye-catching and precise way to emphasize important elements of a structure, to highlight specific elements on the facades. While wall washer led floodlighting provides throws beams at a higher beam angle that can cover the exterior area of your building with light.
Illuminating outdoor areas is a specialty project, and the requirements for each location vary dramatically. You need to have a clear and precise view of what location you want to be lighted and how you want it to look. It's essential to have an in-depth understanding of which areas need lighting and how they should appear. Exterior building lights often require an entirely different approach than landscapes.
Lighting is a powerful tool in shifting the entire vibe of any building; wield it wisely to craft your desired ambiance. A carefully curated illumination plan can make all the difference!
The perfect lighting is not just a matter of picking the right lights. When it comes to stadiums, overlapping light beams can prevent darkened shadows and create the desired effect, while in other scenarios crossover lighting may be best avoided altogether. The lights' brightness and height play an integral role when determining how far apart each one should be spaced for optimum output quality.
When choosing a light, forget wattage and check out lumens instead. An incandescent bulb of 100 watts can provide up to 2,000 luminance but a led at an equivalent wattage offers 20 times more lighting power – that's over 20000 lumens!
Light intensity is determined by lumens. If you want bright lighting, then it is recommended that you choose higher-lumen led lights – but be sure to adjust according to the area's specific needs! The correct luminosity will ensure that all measurements are illuminated with excellence and satisfaction.
Brightening a domestic room requires around 50 lux. An office space or other working area, however, needs approximately 500 lumens to be vibrantly illuminated. Even bigger spaces such as supermarkets and retail stores require up to 1000lux. As area coverage increases so too do lumen level requirements. Therefore it's important that when selecting your lighting source you take into account just how much illumination will be needed for each unique environment.
Color temperature is an important factor to consider when selecting architectural floodlights. And for those in commercial properties, certain color temperatures may be specified due to the specific purpose of that area or room. So it's key you understand how colors interact with one another and why factors like temperature can make all the difference!
2700K-3000K: These lights boast a warm and inviting hue, perfect for creating cozy restaurant atmospheres or adding character to residential homes.
4000K-4500K: Neutral lights of this temperature are ideal for illuminating wide areas such as meeting rooms or offices. Perfectly balanced, these unflattering tones create the perfect ambiance for any professional space.
5000K-5700K / 6000K-6500K: White light is the go-to choice when it comes to stadium and outdoor lighting, renowned for its bright glow that illuminates large spaces with ease.
For the brightest, long-lasting led architectural floodlights, it is must a with quality led driver. These powerhouses ensure your LEDs will continually operate at their full potential with a maximized lifespan! Such as: Meanwell, Philips, MOSO, SOSEN, DONE, etc.
The brightness of architectural floodlights puts an intense strain on their components, But a high-quality led driver gives your lights the extra power they need for longer life expectancy, protecting them from potential damage.
LEDs are known for their longevity and unwavering durability, boasting lifespans of up to 80,000 hours, it's no wonder LEDs are the go-to choice for architectural floodlights. To ensure a long life of brilliant illumination, however, choosing your led supplier wisely is critical – make sure they provide relevant warranties so you can rest assured that any issues will be swiftly handled.
Upward Lighting offers you a warranty and emergency help that guarantees any issues with lighting purchases are swiftly taken care of. No need to worry – let us handle the hassle so you don't have to!
Recommended Techniques for Lighting Up a Structure with Architectural Led Floodlighting
Our lighting professionals are here to provide personalized illumination solutions in any architectural space. But if you're feeling creative and up for a challenge, they suggest using the following methods to create perfect lighting results every time!
Architectural floodlights offer a sophisticated way to brighten any area elegantly. Be mindful when using them and ensure that your space is adequately illuminated, not flooded with light – achieving the perfect balance will truly bring out its beauty.
Over-illuminating your space with bright lights can be an expensive and ineffective approach – too many bright lights will not only lead to uncomfortable temperatures but can also add hefty amounts to your monthly energy bills. Instead of aiming for quantity when it comes to lighting fixtures, strategically placed architectural floodlights can create an ambient atmosphere without significantly contributing to rising electricity bills or temperature indoors!
Our goal is to create an atmosphere where the multitude of lights all come together in perfect harmony. As experts, we can ensure that only a moderate amount of lighting and different types of lights are carefully selected for the perfect balance.
Crafting the perfect lighting scheme is a meticulous art. Balance is a necessity when designing the perfect lighting scheme. To guarantee each area has appropriate light, planning ahead and properly distributing illumination in key locations will ensure your space looks its best!
Our professional team will guide you every step of the way to ensure that your space reaches its full potential. Utilizing strategic dark spots mixed with proper lighting can turn a mundane setting into something breathtaking. Our experts suggest professional expertise when considering this solution, and if you have any doubts our Upward Lighting customer service team is always at hand for guidance!
Floodlight Lighting Fixtures Are Important
From landscape lighting to illuminating large sports arenas, architectural floodlights provide an array of customizable options for any project. Expertly designed fixtures ensure that the bulbs are securely positioned and meet all specific requirements related to their environment.
Create a stunningly illuminated indoor or outdoor space using the sophisticated lateral wash fixture. This ultra-narrow beam floodlight will provide your desired area with 90 degrees of brilliant light coverage, making it an ideal choice to highlight any landscape or feature garden.
High-Performance Surface Washer Floodlighting is the go-to fixture for more enormous facades or commercial spaces. These heavy-duty fixtures provide an impressive range of coverage and can easily light up even the biggest facades.
When it comes to lighting fixtures, select wisely – the ultimate aim is for them to blend in with your existing scheme and enhance its beauty. The purpose of the pieces should be to embellish any space and not detract from its beauty in any way.
The Evolution Of Lighting
As the world continues to evolve, it's essential for lighting designs to keep pace. As time passes, staying on top of the latest trends in lighting requires an innovative mindset. Adapting to change is essential for achieving a clean and modern look – so don't be afraid to make slight adjustments from time to time!
Revamping the lighting scheme is an excellent way to make your structure easily recognizable and invigorate its appeal. Maximize the impact of your business with a total lighting correct – it's an easy way to keep up-to-date and make your space truly captivating. Regular maintenance will ensure that you always exude modernity and professionalism in people's eyes!
Face The Facts: More Than A Few Lights
To create a pleasing ambiance, diverse lighting is essential. Achieving a cozy yet well-illumined atmosphere requires more than just a couple of lights. A diverse array of lighting solutions must be employed to accomplish the desired ambiance, to achieve that, a diverse number of lights will be required.
When you need your outdoor space to have sensational visual appeal, it pays to invest in architectural floodlights. Layering multiple lights creates balance and ambiance – allowing the aesthetics of your environment to shine through! With a substantial budget for lighting solutions, you can rest assured that the results will be worth every penny spent.
What to Keep in Mind When Purchasing
Architectural Led Floodlights?
At Upward Lighting, we manufacture architectural floodlights that offer uncompromising quality and reliability. Our experienced team of professionals has distinguished us as one of China's most trusted manufacturers in this field. At our company, it is not only about providing a stellar product; but also making sure you consider essential factors before purchasing the perfect lighting for your needs.
You can construct the perfect structure with confidence with a multitude of optics.
Lights come in all shapes, sizes, and mounting. You're always ready to tackle any illumination demands.
Maximize energy efficiency and cost savings with led architectural floodlights.
Selecting the architectural led floodlights, consider their longevity and durability.
Surge protection of up to 10kV is recommended as a critical safety measure.
A 0-degree tilt is a perfect way to adopt an eco-friendly aspect.
The ULOR should be kept at zero.
Opt for maximum durability with the right combination of IP and IK ratings.
Choose the lights that fit your project best
At Upward Lighting, we provide our customers with only the highest-quality architectural floodlights. Our team of experts rigorously tests each lamp to ensure that you get nothing but excellence and top-notch performance every time. Our team of experts is always available to provide technical advice, ensuring you make an informed decision on led lighting solutions that best fit your needs.
Benefits Of LEDs For Architectural Led Floodlighting
LEDs are revolutionizing the lighting world with superior energy efficiency and cutting-edge technology. They offer a variety of benefits that make them perfect for any situation, like long lifespan, bright illumination, zero UV output, etc.
LEDs come at a higher price point than HID lamps, but they are exceptionally cost-effective in the long run. One LED can provide you with the same luminosity as ten traditional bulbs – meaning that far fewer LEDs will be necessary to light up the area! On top of great savings and reduced costs, these led lights require little maintenance; no challenging setup needed.
Led architectural floodlights are a resilient and intelligent choice, as they're shock-resistant so you can be assured of their longterm reliability. Enjoy maximum reliability and reduced costs with these smart lighting solutions.
LEDs are an eco-friendly, reliable choice for energy efficiency. With no hazardous compounds, they create almost zero heat emissions and the sturdiness to withstand even extreme temperatures – so you'll never have to worry about an LED bursting!
Upward Lighting takes pride in delivering eco-friendly lighting solutions that are both powerful and safe. We go the extra mile to ensure our LEDs are organic and eco-friendly! Not only do they provide powerful illumination – but you can rest assured that their intense output will never negatively affect your environment.
LEDs can offer you years of maintenance-free illumination with just a little bit of regular checkups. LED lights offer reliable performance and longevity, requiring minimal upkeep compared to other lighting solutions. With a little bit of know-how, you can even perform periodic maintenance yourself in just a few simple steps.
Less maintenance also greatly reduces costs! Our LEDs are crafted using the best techniques and materials available, each led light is crafted to the highest standards, meaning there's a slim chance of them ever failing, so you can rest assured your lighting system will require minimal upkeep throughout its lifetime. Plus, these lights stand by their promise of long life without sacrificing quality or performance.
Durability and Long Lifespan
LEDs are a powerhouse of performance and efficiency, lasting up to an incredible 10 years without any decrease in luminosity. Their impressive durability means that you can trust these versatile lights for smooth, reliable operations over the long term – making them one of your best options when it comes to energy-saving lighting solutions!
LEDs for outdoor architectural floodlights provide an unbeatable solution to energy efficiency and sustainability in any environment. Being weather-resistant and shockproof, these powerful led lights are built to offer long-lasting performance whatever the situation!
Why Buy Architectural Led Floodlighting from
Upward Lighting?
Upward Lighting has been delivering superior quality architectural floodlights worldwide for 13 years, each crafted with utmost precision and tested rigorously. Our highly durable lights boast an IP rating that's guaranteed to stand the test of time – making us a trusted leader in lighting solutions today!
Our lighting specialists provide the perfect complement to our range of architectural floodlights; 24/7 online service is always available if team assistance or guidance with installation is necessary – we even include a step-by-step install guide so you can get up and running quickly.
We offer a diverse portfolio of led architectural floodlights to help bring your vision for lighting projects into reality. From colors, sizes, and types – there is no problem with too big or small for us! Trust the experts at our company to provide you with durable solutions tailored just right.
Architectural facades come alive with the purposeful use of led floodlights. Architectural facades are elevated to the next level by expertly crafting a lighting scheme with strategically placed led floodlights. By utilizing techniques such as multiple lighting techniques, you can achieve a unified and stunning outlook for your project that will leave an impression.