Palm Tree Ring Light
Manufacturer & Supplier in China
Upward Lighting is a trusted name in the lighting industry, known for its high-quality products and excellent customer service. As a manufacturer and supplier of palm tree ring lights, they have a strong reputation for delivering functional and aesthetically pleasing products.
Whether you're looking to light up a big tree or a pillar, Upward Lighting's palm tree ring lights are a great choice, offering a unique and attractive solution for your lighting needs. Their sales team is dedicated to helping you find the right products for your project, and their commitment to customer satisfaction means service.
Top-rated Palm Tree Ring Lights
Palm tree ring lights are lighting fixtures shaped like a chain, usually used to light outdoor trees such as patios, gardens, and pool areas or objects such as long round columns. These lights are typically composed of multiple LED lights, and at the same time, the number of lights can be increased or decreased according to the size of the tree trunk and the pillar.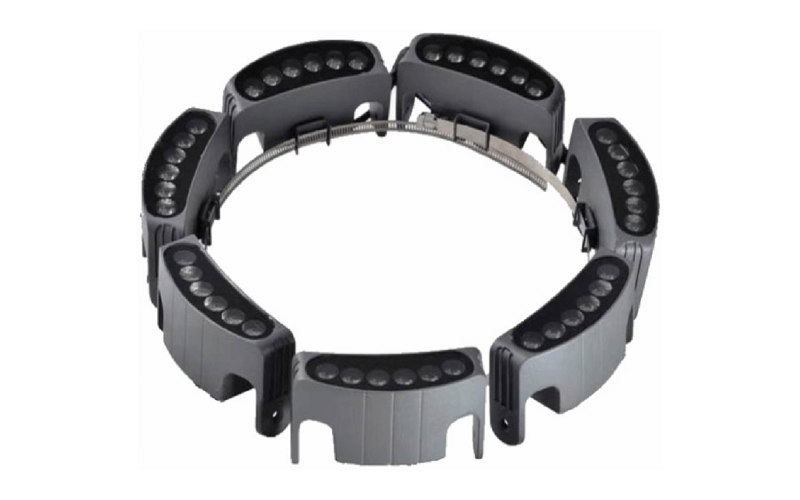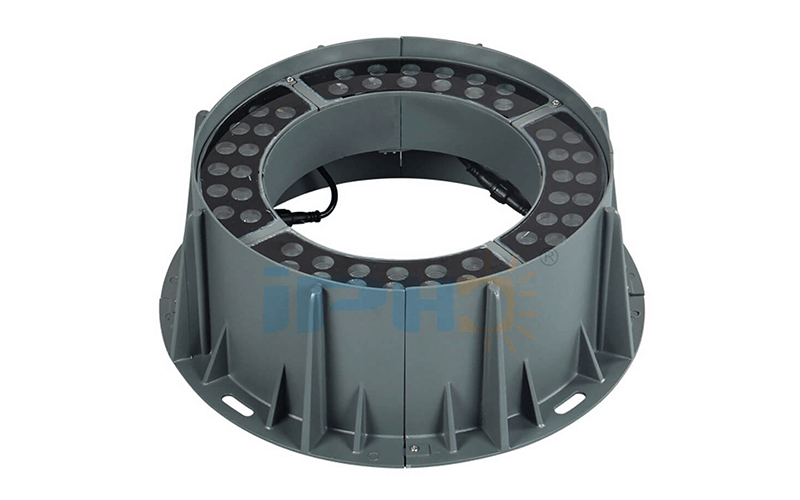 The use of high-quality aluminum parts in constructing the palm tree ring light ensures that it is strong, sturdy, and resistant to corrosion, making it ideal for outdoor use. The IP65/IP66 waterproof rating further adds to its durability by protecting it from the elements. The waterproof sealing makes it rainproof and dustproof to withstand exposure to rain and dust without any damage. However, it's important to note that it should not be submerged in water, as this can cause damage to the internal components and affect its performance.
The availability of various light colors gives you the flexibility to choose the perfect look for your outdoor space. Whether you want a single color, RGB, or RGBW, you can easily find a color that complements your outdoor decor and enhances the ambiance.
Custom-made to your specifications, the palm tree ring light can be tailored to your specific needs and preferences, ensuring that it meets your requirements. This makes getting the authentic look and feel you want for your outdoor space easy.
Customize Palm Tree Ring Light For Your Specific Needs
Customization is what sets us apart. Rather than settling for a 'one-size fits all' approach, we understand that each customer is unique, and the products they need should be equally distinctive. Our competitive advantage lies in customizable solutions; you can tailor every element, including color temperature, beam angle, control type, size, finish, and more. To achieve something perfectly suited to your specific purpose.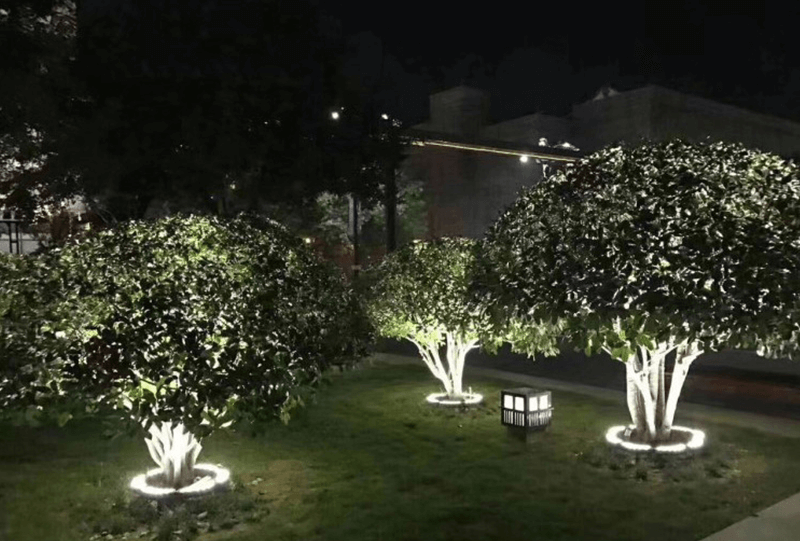 Palm Tree Ring Lights Applications
Palm tree ring lights are a versatile and attractive lighting solution in various outdoor spaces to create a tropical, beachy, or resort-like ambiance. Their weather-resistant design and customizable light colors make them a low-maintenance and durable lighting solution for any outdoor area.
Gardens and Landscaping
Patios and Decks
Pool and Spa Areas
Hotels and Resorts
Restaurants and Cafes
Why Choose Palm Tree Ring Light From
Upward Lighting?
Upward Lighting is committed to providing high quality products to fulfill your outdoor lighting needs. We are your best supplier of reliable and trustworthy palm tree ring light. We produce led lamps that are 100% tested before they can be shipped to our customers. We have great designers and are open to your suggestions and customize to your ideas.
Reliable Materials: We can take pride in our commitment to providing you with long-term quality lighting solutions. We invested a lot of time and energy in the early stage to find reliable suppliers, just to provide our customers with high-quality outdoor lighting products in the future. Only good materials can make our products durable.
Affordable Price: We maintain long-term and good cooperative relations with raw material suppliers, keep the most competitive prices for customers, and give each customer the most favorable transaction price so that our prices have an advantage over competitors. Win more orders and market share for each customer.
Satisfactory After-Sales Service: During the product warranty period, if the quality problem of the product itself causes the product not to work, a new product will be replaced for free, and the freight incurred by the replacement product will be borne, excluding human factors. Let customers rest assured to buy the led lamps we produce.
We value your time and offer prompt delivery of your palm tree ring light upon purchase. Get your lighting fixtures delivered in time!
We offer OEM/ODM services, providing customized solutions to your needs and ensuring you receive the perfect lighting solution for your project.
Our customer service is available 24/7 to answer any questions or concerns. Contact us today for exceptional customer service.
Discounts for Distributor, Wholesale, Contractor, or other Trader
Our team ensures every customer receives the highest quality of service, unbeatable value, and a proven industry track record through our extensive network of reliable electricians, contractors, distributors, wholesale and other tradespeople. Forge meaningful partnerships with us today for exclusive discounts tailored to your needs!
Join our free partner program today! When you join as our partner, you will have the opportunity to win more bids. Enjoy customer testimonials, free service, and low prices.
★ Enjoy low factory prices.
★ Give your clients immediate results. We'll help make this happen through our free lighting plans priority assistance.
★ Get assistance for our rebate research and application.
★ Increase your business at no extra cost. Join our referral list to get more clients.
★ Take advantage of further discounts when you book bulk orders.
More Than Just A Palm Tree Ring Light Manufacturer
Upward Lighting is dedicated to exceeding the expectations of all professionals in need of quality palm tree ring light. From project design consultation and product customization to installation advice and excellent after-sales service – no matter what your requirements are, Upward Lighting provides a holistic solution that can't be found anywhere else!
At our core is a passion for creative lighting designs that bring environments alive. Our fixtures are adaptable to your visions, sourcing the perfect balance of illumination and atmosphere – no matter what you envision!
With our extensive experience in the field of lighting design, we can help you create a truly unique and eye-catching plan. From selecting from an existing collection to customizing something new—our team is here for you!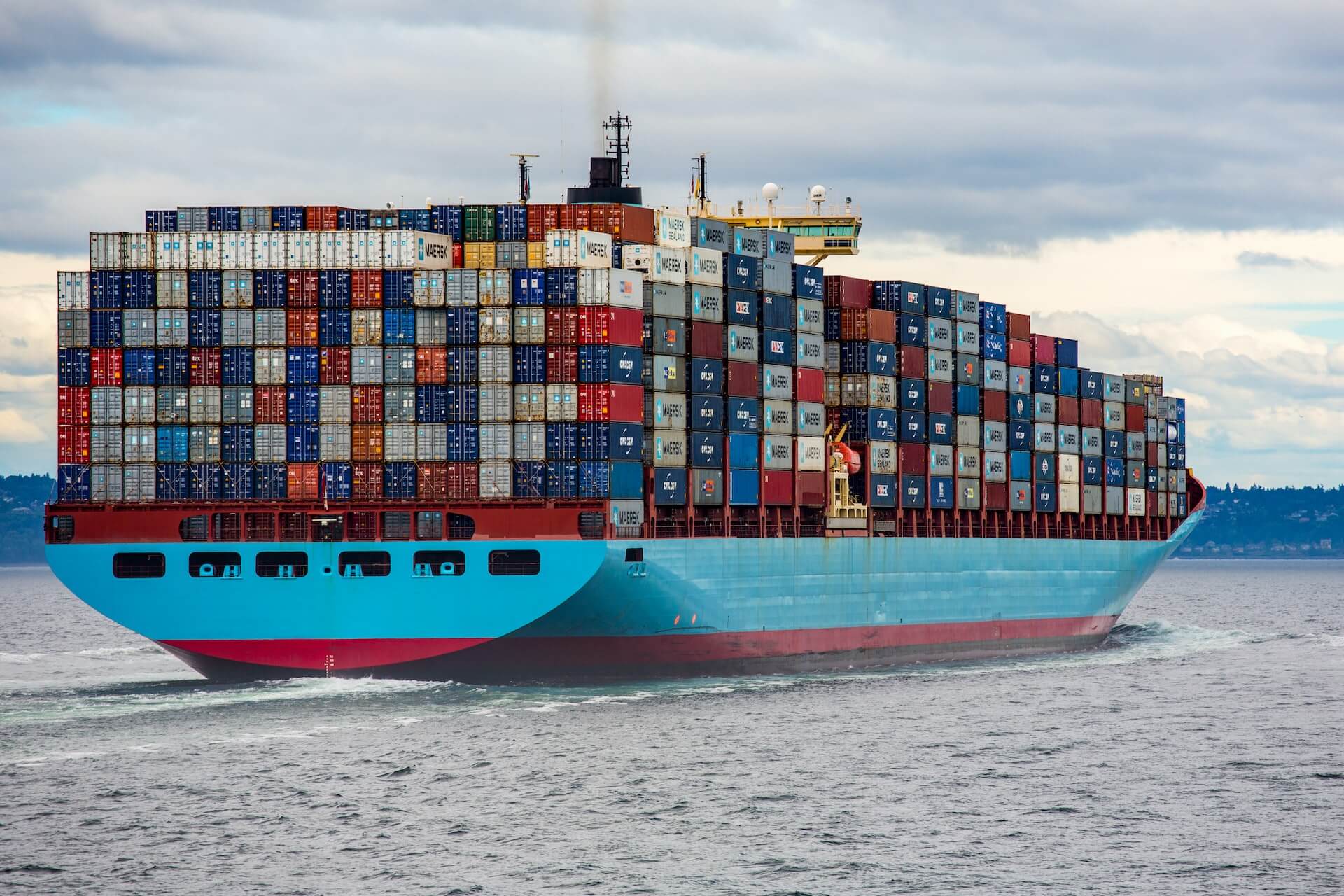 Our logistics support provides a hassle-free solution to meet your product delivery needs. We can assist you with product handling and delivery that is always on time and within budget.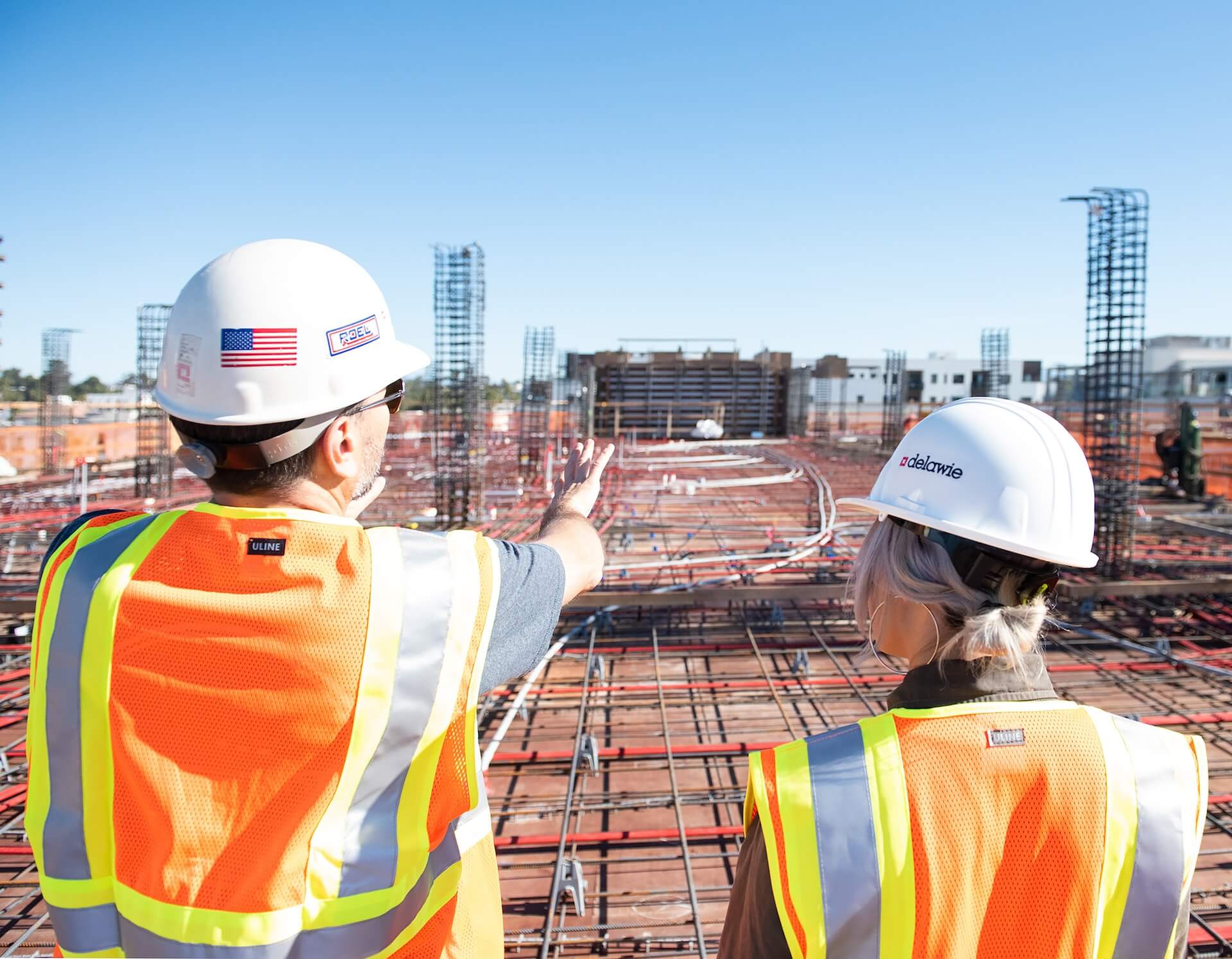 Our team of experienced engineers will support you every step of the way, from design and construction to installation. Whatever your needs may be, we're here to make sure they are taken care of quickly and efficiently.
Real Reviews from Real Customers
We take great pride in having served numerous satisfied customers and are eager to share their positive feedback with others. These testimonials highlight the satisfaction that our customers have experienced with our palm tree ring lights and demonstrate the quality of our product and service.
"I love my palm tree ring lights! They were easy to install and the adjustable brightness and color-changing features make it easy to change the ambiance of my patio whenever I want."
"I've received so many compliments on my palm tree ring lights. They add a unique and attractive touch to my garden and the waterproof design ensures that they will last for years to come."
"I recently used these lights to light up my hotel's outdoor pool area and I was blown away by the results. They provide the perfect amount of light for swimming at night and the tropical design adds a touch of luxury to our resort."
Frequently Asked Questions
We recognize that you may have additional concerns about our palm tree ring light, so we've compiled a comprehensive list of the most common questions to provide you with all the information you need to make an informed choice. Whether you have questions about the product's features, installation, or maintenance, we're here to help.
What are palm tree ring lights made of?
Palm tree ring lights are typically made of high-quality aluminum parts and sealed with waterproof material to ensure durability and resistance to outdoor elements.
Are palm tree ring lights weather-resistant?
Yes, palm tree ring lights are designed to be weather-resistant and can withstand outdoor elements, such as rain and dust.
Can palm tree ring lights be customized to specific light colors?
Yes, palm tree ring lights are available in various light colors, including single color, RGB, and RGBW, and can be custom-made to your specifications.
Can palm tree ring lights be used in both indoor and outdoor spaces?
Palm tree ring lights are specifically designed for outdoor use, but some models can also be used indoors in covered spaces.
Can palm tree ring lights be controlled with a remote control?
Some models of palm tree ring lights come with remote control capabilities, allowing you to adjust the brightness, change the color, and turn the lights on and off from a distance.
Are palm tree ring lights safe for use near water?
Palm tree ring lights are designed to be weather-resistant, but it's important to ensure that they are not submerged in water, as this can cause damage to the internal components and affect their performance.
Are palm tree ring lights adjustable in terms of brightness and color?
Yes, contact us for details
What is the warranty for palm tree ring lights?
Our company offer 3 years warranty, thanks
How much do palm tree ring lights cost?
he cost of palm tree ring lights can vary depending on the model, size, and features, but they typically range from a few hundred to a few thousand dollars.
Are palm tree ring lights energy-saving?
Yes, palm tree ring lights are equipped with LED lights, which are known for their energy efficiency and low power consumption, making them an energy-saving lighting solution for outdoor spaces.
Are palm tree ring lights easy to install on different types of trees?
The installation process of palm tree ring lights can vary depending on the model, but some models are designed to be easily installed on different types of trees, including palm trees and other types of outdoor trees.
Can palm tree ring lights be used in commercial settings?
Yes, palm tree ring lights can be used in commercial settings, such as hotels, resorts, restaurants, and cafes, to create a tropical and resort-like ambiance in outdoor areas.
How to Choose Palm Tree Ring Light:
The Definitive Guide
Picture a tranquil evening under the starry sky, where the gentle rustling of palm fronds blends harmoniously with the soothing sound of ocean waves. It's a picturesque tropical paradise, but something extraordinary elevates this scene to a new level of enchantment – the captivating glow of palm tree ring lights. These magical lights entwine gracefully around the trunks of swaying palm trees, casting a soft, warm radiance that transforms any outdoor space into a dreamlike oasis.
Selecting the correct palm tree ring lights is more than just enhancing the aesthetics of your outdoor environment; it's about curating an atmosphere that reflects your style and sets the mood for unforgettable moments. This guide is your comprehensive resource for making informed decisions and ensuring your outdoor lighting vision becomes a reality.
1. Determine Your Lighting Goals
Determining your lighting goals is one fundamental step in selecting the ideal palm tree ring lights for your outdoor oasis. This pivotal phase sets the stage for the entire selection process, as it helps you crystallize your intentions and align your choices with your unique needs and preferences.
Defining Purpose: At the heart of this exploration is the need to define the purpose of the palm tree ring lights you seek to install. Are you primarily aiming for aesthetic enhancement, security, or a harmonious fusion? Your answer to this question will be the guiding light throughout this enlightening journey.
Aesthetic Enhancement: Should your main aim be enhancing the visual charm of your outdoor area, your palm tree ring lights transcend mere sources of light and instead evolve into pieces of artistry. These lights can transform your garden or patio into a captivating, enchanting realm where each palm tree bathes in a soft, warm glow. Aesthetic enhancement is about creating an atmosphere of beauty and enchantment that amplifies the natural charm of your surroundings. It's about sculpting the play of light and shadow to craft genuinely unforgettable moments.
Security: On the other hand, if security is paramount in your considerations, palm tree ring lights can play a dual role. Their illuminating prowess can deter unwanted visitors, ensuring the safety of your property. They can act as silent sentinels, casting a watchful eye over your outdoor space and providing comfort and security to you and your loved ones. In this capacity, the lights serve as adornments and guardians of your outdoor sanctuary.
Harmonious Balance: In many cases, the ideal choice may be a harmonious balance between aesthetics and security. The enchanting glow of palm tree ring lights can coexist seamlessly with their practical functionality. By strategically selecting lights that blend form and function, you can achieve a picturesque outdoor setting that exudes charm while enhancing your environment's safety and security.
Guiding Your Selection: Understanding your lighting goals resembles setting a compass bearing on a grand adventure. Every subsequent choice, from the type of lights to their size, color temperature, and power source, perfectly aligns with your vision. Your goals become the cornerstone upon which your outdoor lighting dreams are built.
2. Assess Palm Tree Size and Placement
An essential step in this endeavor is to assess the size and placement of your palm trees, as these factors will play a pivotal role in determining the lighting solutions that will best bring your vision to life.
2.1: Consider Palm Tree Size: The first aspect to contemplate is the size of the palm tree or trees you wish to adorn. Trees, like individuals, possess unique characteristics and dimensions, and understanding these attributes is critical to achieving the desired effect. Because different diameter sizes of trees will use other light sizes to match them, with their towering grace, larger palm trees may demand more robust and powerful lighting fixtures to illuminate their grandeur effectively. Conversely, smaller palm trees can be elegantly lit with lower-wattage fixtures, ensuring a balanced and harmonious lighting arrangement.
2.2: Evaluation of Location: The art of palm tree ring lighting extends beyond mere bulb brightness; it involves a delicate choreography of placement. Consider the geography of your outdoor space and the precise location of your palm trees. Evaluate where the light fixtures can be installed to ensure optimal coverage and a captivating visual display. This assessment considers the lights' positioning and the angles at which they will cast their radiance.
2.3: Fostering Balance and Symmetry: Achieving balance and symmetry in your palm tree lighting is akin to crafting a masterpiece. Understanding the size and placement of your trees allows you to create a harmonious composition of lights that accentuates the inherent beauty of each palm. Whether you have a solitary sentinel palm or a lush grove of swaying fronds, precise placement ensures that no detail goes unnoticed, and your outdoor space becomes an enchanting tapestry of illumination.
2.4: Powerful vs. Subtle: Larger trees, with their imposing presence, may benefit from powerful, well-placed lights that command attention and create a dramatic effect. In contrast, smaller palm trees can be bathed in a more subtle, delicate radiance that exudes charm without overwhelming the viewer. Understanding the size of your palms empowers you to select the appropriate lighting fixtures that complement their stature and personality.
3. Choose the Right Fixture Type
These captivating lighting fixtures are available in various types, each with distinct characteristics and installation methods.
3.1 Ground-Mounted Palm Tree Ring Lights: These fixtures are firmly planted into the ground, encircling the base of the palm tree trunk. Ground-mounted ring lights are ideal for creating a stunning halo of illumination around the tree, accentuating its form and grandeur. They are particularly effective for showcasing the majestic beauty of tall palm trees. This installation offers stability and ensures the lighting focuses on the tree's lower portion.
3.2 Tree-Mounted Palm Tree Ring Lights: As the name suggests, tree-mounted ring lights are affixed directly to the palm tree. They often consist of flexible or adjustable fixtures wrapped around the tree trunk or secured to its branches. This approach provides a seamless and integrated appearance, making it appear like the lights are an organic extension of the tree. Tree-mounted ring lights are versatile, allowing you to emphasize both the trunk and the canopy, creating a captivating, all-encompassing glow.
3.3 Hanging Palm Tree Ring Lights: Consider hanging ring lights from the palm tree branches for a whimsical and ethereal ambiance. These fixtures suspend delicately in the air, casting a gentle radiance that dances with the breeze. Hanging lights are particularly well-suited for lower palm trees or those with lush canopies, as they create a charming, cascading effect. This installation adds an enchanting and playful dimension to your outdoor space.
3.4 Selecting the Ideal Type: The type of palm tree ring lights you choose is a practical and creative consideration. It should harmonize with your overall vision for your outdoor space. Ground-mounted fixtures provide stability and emphasize the tree's base; tree-mounted lights offer an integrated and organic look while hanging fixtures infuse a sense of whimsy and magic.
3.5 Customizing Your Illumination: Consider how different palm tree ring lights can be combined for a dynamic and customized effect. You may choose ground-mounted lights for stability and tree-mounted or hanging lights to highlight the upper branches and canopy, creating a layered and captivating display.
3.6 Aesthetic Preferences and Application: Your choice should align with your aesthetic preferences and the specific application of the lighting. The type of palm tree ring lights you select will play a significant role in realizing your vision.
4. Determine the Desired Brightness (Lumens)
The desired brightness of your palm tree ring lights should align with your unique lighting goals. Do you envision a softly illuminated, intimate setting, or are you aiming to transform your outdoor space into a dazzling and vibrant display? Perhaps your goal is to strike a delicate balance between the two.
4.1 Size Matters: The palm tree's size is crucial in establishing the optimal brightness level. With their towering elegance, larger palm trees require more robust lighting solutions to showcase their grandeur effectively. For these majestic giants, fixtures with higher lumen outputs are essential to casting a radiant and captivating glow that envelopes their entire stature.
4.2 Choosing the Right Lumen Output: Lumens are the units used to measure the brightness of light emitted by a fixture. When selecting palm tree ring lights, it's imperative to choose fixtures with an appropriate lumen output that matches your vision and the size of the palm tree. Lower lumen outputs create a subtle, romantic ambiance, while higher lumen outputs infuse vibrancy and energy into the scene. You may need fixtures with higher lumen ratings for larger palm trees to ensure light reaches every frond and branch.
4.3 Balancing Aesthetics and Functionality: In your quest for the perfect brightness, it's crucial to strike a harmonious balance between aesthetics and functionality. The brightness should enhance the beauty of the palm tree and your outdoor space without overwhelming or causing discomfort. Well-calibrated illumination ensures that every intricate detail of the tree is revealed while creating the desired mood or atmosphere.
4.4 Dimmers and Control: To refine your lighting experience further, consider fixtures with dimming capabilities or dmx control systems. These allow you to adjust the brightness to suit different occasions, providing versatility and adaptability to your outdoor lighting scheme.
4.5 Guiding Your Selection: The required brightness of your palm tree ring lights is the guiding star of your lighting expedition. It's a conscious choice that bridges the gap between your aspirations and the transformative power of light. As you embark on this radiant journey, remember that the luminosity of your palm tree lights can breathe life into your outdoor space, creating a magical atmosphere that mirrors your vision.
5. Select the Right Color Temperature
In the radiant world of palm tree ring lights, the spectrum of color temperature and options unfolds like a palette of possibilities, each shade and tone contributing to the symphony of your outdoor ambiance. The choice between warm, soft lighting (2700K-3000K), natural, white lighting (4000K-5000K), or cold white lighting (6000K-6500K), and even the inclusion of RGB and RGBW options is a decision that carries profound implications for the atmosphere you wish to craft.
Warm, Soft Lighting (2700K-3000K): Opting for warm, soft lighting in the 2700K-3000K range is akin to basking in the gentle glow of a golden sunset. This choice infuses your palm tree ring lights with a cozy and inviting radiance, casting a romantic and intimate spell over your outdoor haven. This warm embrace of light creates an atmosphere of relaxation, charm, and intimacy, ideal for serene evenings under the stars or cozy gatherings with loved ones.
Natural, White Lighting (4000K-5000K): If you prefer a clean and natural illumination that replicates the clarity of daylight, the 4000K-5000K range is your realm. This choice imparts a pristine and crisp luminosity to your palm tree ring lights, revealing the vibrant details of your outdoor space. It offers a modern and versatile aesthetic that can seamlessly adapt to various settings, from elegant outdoor dinners to lively social gatherings.
Cold White Lighting (6000K-6500K): On the opposite end of the spectrum, cold white lighting in the 6000K-6500K range is a choice that radiates a bright, clinical brilliance. It is ideal for environments where maximum visibility and security are paramount, creating an alert and refreshing atmosphere. This choice is often preferred for commercial and security applications.
RGB and RGBW Options: For those who seek to unleash their creative spirit and add an extra layer of versatility to their outdoor lighting, RGB (Red, Green, Blue) and RGBW (Red, Green, Blue, White) options are at your fingertips. These innovative options allow you to customize the color of your palm tree ring lights to suit any occasion, from vibrant party themes to tranquil, monochromatic displays.
The Art of Choice: The decision between warm, natural, cold white lighting and RGB/RGBW options is an artful one, guided by your preference and the ambiance you wish to create. It's a choice that transforms your palm tree ring lights from mere sources of illumination into storytellers, crafting narratives of mood and style in your outdoor space.
Guiding Your Selection: As you embark on this chromatic expedition, remember that the choice of color temperature and options is your means of expression, allowing you to paint your outdoor canvas with light. Whether you opt for the warmth of a sunset, the clarity of daylight, the brilliance of security, or the creativity of RGB and RGBW, your decision will set the stage for an outdoor space that mirrors your unique vision.
6. Consider Lighting Effects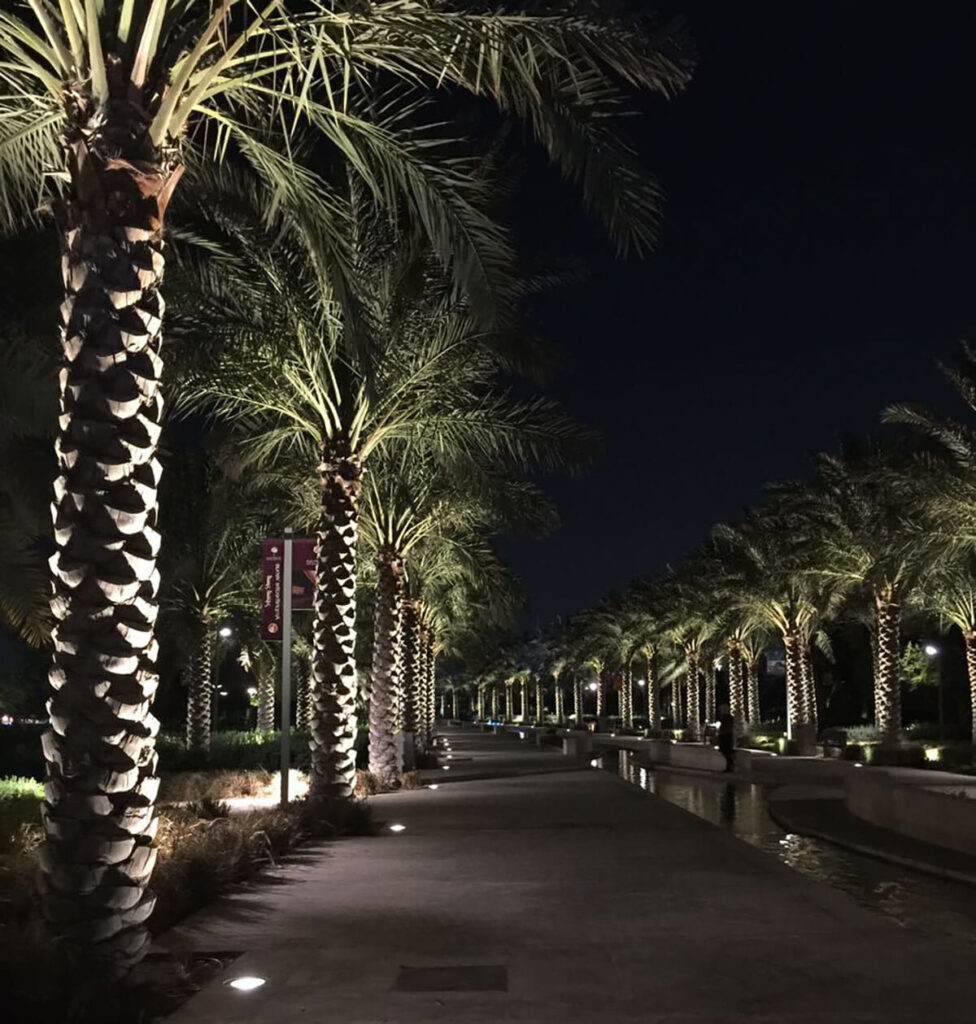 The luminous possibilities extend beyond mere illumination in the enchanting realm of palm tree ring lights. These captivating fixtures possess the innate ability to create a tapestry of effects, each a brushstroke of artistry that can transform your outdoor space into a masterpiece. Among these effects are uplighting, downlighting, and moonlighting, each offering a distinct visual narrative to complement your landscaping design.
Uplighting-Elevating Nature's Elegance: Uplighting is a technique that bestows an ethereal quality upon your palm trees. It involves shining lights upward toward the tree's crown, highlighting the graceful arch of fronds and the intricate texture of the trunk. Uplighting accentuates the majestic stature of the palm trees, casting dramatic shadows that dance against the night sky. This effect is perfect for showcasing the natural elegance of your palms, creating a regal and enchanting atmosphere.
Downlighting-The Art of Gentle Embrace: Downlighting, conversely, is an approach that casts light downward from above, creating a soft and comforting illumination that bathes your palm trees and surrounding space in a warm embrace. It resembles the gentle caress of moonlight, evoking a sense of serenity and tranquility. Downlighting illuminates your outdoor sanctuary with a soft glow, perfect for intimate gatherings, quiet contemplation, or creating a cozy ambiance.
Moonlighting-Through the Veil of Branches: Moonlighting is a nuanced technique that simulates the enchanting play of moonlight filtering through the palm tree branches. Lights are discreetly placed within the canopy, casting subtle dappled patterns on the ground below. This effect lends an otherworldly and dreamlike quality to your outdoor space, creating an atmosphere reminiscent of a magical forest under a moonlit sky. Moonlighting adds a touch of whimsy and mystique to your landscaping design.
The Artistic Expression of Choice: Selecting the effect that best complements your landscaping design is an artistic expression akin to choosing the brushstroke that defines a masterpiece. It reflects your unique style, vision for the space, and the mood you wish to evoke. Whether you aspire to elevate nature's elegance, create a gentle embrace, or weave a dreamlike tapestry through moonlighting, your chosen effect is the poetic punctuation in your outdoor narrative.
7. Choose Energy-Efficient LED Lights
In the ever-evolving landscape of outdoor lighting, the choice of palm tree ring lights has expanded to encompass many options. However, one illumination choice has risen to prominence as a beacon of efficiency, longevity, and low maintenance: LED palm tree ring lights. When selecting the perfect lighting solution for your outdoor oasis, opting for LED technology is a decision that marries sustainability with sophistication. This comprehensive guide illuminates the compelling advantages of LED palm tree ring lights.
Energy Efficiency: LED palm tree ring lights are renowned for their exceptional energy efficiency. These lights convert a higher percentage of the electricity they consume into visible light, minimizing wasted energy in the form of heat. This reduces your carbon footprint and translates into tangible cost savings on your energy bills. In an era where environmental responsibility is paramount, LED palm tree ring lights are an eco-conscious choice that allows you to illuminate your outdoor space while being mindful of resource conservation.
Extended Lifespan: LED technology is celebrated for its remarkable longevity. LED palm tree ring lights have a significantly longer lifespan than traditional bulbs. They can last up to 25,000 hours or more, which means fewer replacements and less hassle. This extended lifespan reduces the inconvenience of frequent bulb changes and contributes to long-term cost savings as you won't need to invest in replacements as often.
Reduced Maintenance: One of the critical advantages of LED palm tree ring lights is their reduced maintenance requirements. These lights are designed to be durable and robust, capable of withstanding outdoor elements such as rain, wind, and temperature fluctuations. Their low-maintenance nature means you can enjoy your outdoor space more and less time tending to your lighting fixtures. LED palm tree ring lights are ideal for those seeking a hassle-free and low-maintenance lighting solution.
Enhanced Durability: LED palm tree ring lights are engineered for durability. They resist shock and vibration, making them well-suited for outdoor environments where they may be exposed to the elements or accidental impacts. Their robust construction ensures they shine brightly and reliably, even in challenging conditions.
Versatile Design: LED palm tree ring lights come in various designs, allowing you to select fixtures that align with your aesthetic preferences and outdoor decor. From classic warm white to vibrant RGB color-changing options, LED palm tree ring lights offer versatility in creating the desired ambiance for your outdoor space.
8. Review Weather Resistance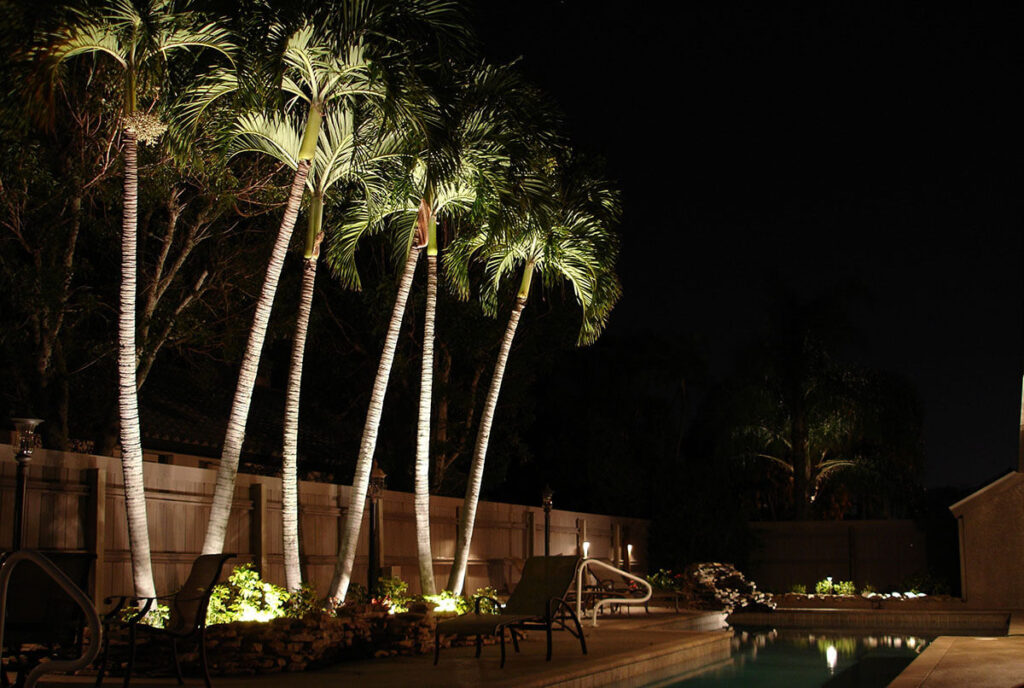 In outdoor lighting, the choice of palm tree ring lights is not merely about aesthetics but also a testament to their resilience in the face of nature's elements. To craft an outdoor oasis that remains enchanting year-round, it is paramount to ensure that the selected fixtures are weather-resistant and purpose-built for outdoor use.
Weather-Resistance as a Prerequisite: The outdoor environment presents a unique set of challenges that indoor lighting fixtures need not contend with. Palm tree ring lights, being exposed to the elements, must be engineered to withstand rain, humidity, and temperature variations. Weather resistance is not a luxury but a prerequisite, ensuring the longevity and functionality of your outdoor lighting investment.
Understanding IP Ratings: The key to assessing a fixture's suitability for outdoor use is its IP (Ingress Protection) rating. This alphanumeric code provides valuable insights into fixtures' ability to fend off environmental challenges. The IP rating typically consists of two digits. The initial digit signifies defense against solid particles, whereas the subsequent number denotes safeguarding against moisture and liquids.
Protection Against Solid Particles: The first digit in the IP rating, typically from 0 to 6, signifies the fixture's resistance to solid particles such as dust and debris. A higher number indicates greater protection. For outdoor palm tree ring lights, a rating of 5 or higher is generally recommended to ensure that they remain unharmed by dust and other particles commonly found outdoors.
Protection Against Moisture and Liquids: The second digit in the IP rating, which typically ranges from 0 to 9, reflects the fixture's ability to resist moisture and liquids, including rain, humidity, and splashes. The higher the number, the more robust the protection. When selecting outdoor fixtures, particularly for palm trees that may be exposed to rain or damp conditions, a second-digit rating of 4 or higher is advisable to ensure adequate protection.
Guiding Your Selection: As you embark on the quest for the perfect palm tree ring lights, it is crucial to prioritize durability and outdoor suitability. Look for fixtures with IP ratings that align with the specific environmental conditions in your region. Whether you reside in a rainy climate or an area with extreme temperature fluctuations, fixtures with appropriate IP ratings guarantee that your outdoor lighting investment will shine brightly and reliably year after year.
9. Evaluate Installation and Wiring
When striving to craft a captivating outdoor haven using palm tree ring lights, your path continues after choosing the perfect fixtures. It extends to the vital aspects of installation, wiring, and ensuring your lighting system's safe and efficient functioning.
Simplicity in Installation: The ease of installation is paramount when selecting palm tree ring lights. Consider fixtures with user-friendly installation instructions and hardware that simplifies the process. Fixtures designed with intuitive mounting options and clear, step-by-step guidance can significantly reduce the complexity of setting up your lighting system. Such simplicity streamlines the installation and enhances the overall user experience.
Wiring Considerations: Wiring is another critical aspect to ponder. Ensure the chosen palm tree ring lights have a wiring configuration that aligns with your outdoor space and power sources. Fixtures that offer versatility in wiring options, such as discreet wire concealment or flexible wiring lengths, provide greater flexibility and customization when setting up your lighting arrangement.
Professional Assistance: While many palm tree ring light installations can be completed as DIY projects, it's important to acknowledge your level of experience and comfort with electrical work. If you need to be better-versed in wiring and electrical systems, or if you have any doubts about the installation process, it is advisable to seek the services of a qualified professional electrician. Professional installation ensures safety and guarantees that your lighting system functions flawlessly.
The Benefits of Professional Installation: Electricians possess the knowledge, expertise, and tools to safely and efficiently handle electrical connections. They can assess your outdoor space, determine the best wiring routes, and ensure the installation complies with all safety regulations. Additionally, professional installation can provide peace of mind, knowing that your palm tree ring lights will operate reliably and securely.
10. Check for Control Options
Control options for palm tree ring lights extend beyond mere convenience; they empower you to shape the atmosphere of your outdoor sanctuary with precision. The ability to dim, brighten, change colors, set schedules, and customize lighting effects grants you the power to orchestrate moments and moods in your outdoor space.
Dimming Capabilities: One of the fundamental control features to consider is dimming. Dimmable palm tree ring lights allow you to adjust the brightness to suit different occasions and create varying levels of ambiance. Whether you desire a soft, romantic glow or a vibrant, dynamic atmosphere, dimming capabilities provide versatility in crafting the perfect lighting setting.
Color Customization: Some palm tree ring lights offer color-changing capabilities, allowing you to select from a spectrum of hues to match specific themes or preferences. This feature can transform your outdoor space into a captivating canvas of colors, ideal for events, holidays, or simply for adding a playful dimension to your landscaping.
Remote Controls: Many modern palm tree ring lights come with remote controls, offering the convenience of adjusting settings from a distance. Remote controls allow you to fine-tune your lighting scheme without needing to physically access each fixture, adding ease and flexibility to your outdoor lighting experience.
Smart Control Systems: Integrating smart control systems significantly advances outdoor lighting technology. These systems enable you to remotely control your palm tree ring lights via smartphone apps or voice commands through smart home assistants. They often provide scheduling options, allowing you to automate lighting based on time, weather conditions, or special events.
Wired vs. Wireless: Consider whether you prefer wired or wireless control options. Wired controls typically involve physical connections, while wireless controls operate through radio or Wi-Fi. The choice between wired and wireless may depend on the complexity of your lighting setup and your desire for flexibility in management.
Integration with Existing Systems: If you have an existing outdoor lighting system, investigate whether the palm tree ring lights can be seamlessly integrated. Compatibility with existing control systems can simplify management and provide a cohesive lighting experience.
In outdoor lighting, achieving precise and dynamic control over your palm tree ring lights often calls for a sophisticated solution, and DMX control stands as a pinnacle of lighting mastery. This advanced control system, DMX (Digital Multiplex), is a powerful tool that transforms outdoor lighting into an orchestrated symphony of colors, effects, and precision.
The Art of DMX Control: DMX control is a standardized protocol used in the lighting industry to manage and synchronize lighting fixtures. It provides a level of control that extends far beyond essential on/off switches or simple dimming. With DMX, each palm tree ring light becomes a pixel in your outdoor canvas, allowing you to create intricate patterns, dynamic color changes, and synchronized lighting effects that captivate the senses.
Unleash Your Creativity: One of the most compelling aspects of DMX control is its capacity to unleash your creativity. You can program your palm tree ring lights to perform intricate choreographies, such as gentle color fades, rhythmic pulsations, or dazzling sequences that elevate your outdoor space into a work of art. DMX control lets you synchronize multiple fixtures, turning your palm trees into pillars of light that dance in perfect harmony.
Endless Color Possibilities: DMX control grants you access to a vast spectrum of colors, allowing you to paint your outdoor space with hues that match your mood, theme, or event. From serene pastels to vibrant, pulsating hues, the palette is limited only by your imagination. This flexibility is ideal for special occasions, holidays, or simply creating a dynamic outdoor atmosphere that evolves with your desires.
Intuitive Control Interfaces: DMX control systems often have intuitive interfaces that facilitate programming and management. Software applications, lighting consoles, and hardware controllers allow you to customize and fine-tune your lighting effects easily. Whether you're a lighting professional or a creative enthusiast, these interfaces empower you to craft your lighting vision with precision.
Professional-Grade Performance: DMX control is a staple in professional lighting applications, including concerts, theaters, architectural lighting, and events. When applied to palm tree ring lights, it elevates their performance to professional-grade standards, ensuring flawless execution of lighting sequences, transitions, and effects.
The reputation and reliability of the manufacturer you select can significantly influence the longevity and performance of your lighting fixtures.
The Manufacturer's Imprint: The heart of any lighting fixture lies not just in its design but also in the expertise and integrity of the manufacturer. Reputable manufacturers have a history of crafting high-quality lighting solutions that endure the test of time. They invest in research, development, and testing to ensure their products meet stringent performance standards. Selecting a fixture from a trusted manufacturer is your first step toward ensuring that your palm tree ring lights provide reliable, long-term performance.
Reliability and Longevity: Quality fixtures from reputable manufacturers are engineered to deliver consistent and reliable performance. These fixtures are constructed with durable materials and undergo rigorous testing to withstand outdoor conditions like rain, wind, and temperature fluctuations. Choosing such fixtures safeguards your investment and reduces the likelihood of premature failures or replacements.
Warranty Coverage: An essential aspect of your decision-making process should involve evaluating the warranty coverage offered by the manufacturer. Warranty coverage indicates the manufacturer's confidence in their product's quality and performance. It provides you with peace of mind, knowing that should any issues arise, you have a safety net in place. Be sure to thoroughly understand the terms and duration of the warranty and any conditions or requirements.
Product Support: Reputable manufacturers often provide comprehensive product support, including access to technical assistance and customer service. This support network can prove invaluable in addressing questions, troubleshooting issues, or obtaining replacement parts if needed. Knowing you have reliable support enhances the overall experience of owning and maintaining your palm tree ring lights.
Consumer Feedback and Reviews: Before making a final decision, consider researching consumer feedback and reviews about the manufacturer and its products. Insights from other customers can provide valuable information about the performance, durability, and overall satisfaction with the lighting fixtures. A consistent positive feedback pattern can further reinforce your confidence in the manufacturer.
13. Budget Considerations
To transform your outdoor oasis with the enchanting allure of palm tree ring lights, one of the initial and imperative steps is establishing a clear and realistic budget for your project. The spectrum of LED palm tree ring lights spans various price ranges, making it essential to harmonize your choices with your budget while weighing the desired quality and features you seek.
Budget as the Foundation: Your budget is the bedrock upon which your entire palm tree ring light project rests. The practical framework guides your choices, allowing you to balance your aspirations and financial boundaries. Establishing a budget ensures you make informed decisions and avoid overspending, leading to a successful and satisfying lighting project.
Quality vs. Price: When contemplating your budget, it's crucial to recognize the intricate interplay between quality and price. While it may be tempting to opt for the most budget-friendly options, assessing the quality and features offered by the fixtures within your chosen price range is equally important. Quality fixtures are more likely to provide reliable, long-term performance, reducing the likelihood of maintenance or replacements.
Features that Matter: Consider the essential elements of your specific project. Are you seeking dimming capabilities, color customization, or intricate control options? Do you prioritize weather resistance or long-lasting LED technology? Understanding your lighting goals and requirements will help you allocate your budget toward fixtures that align with your vision.
Comparing Options: Take the time to research and compare various palm tree ring light options within your budget range. Pay attention to fixture quality, durability, energy efficiency, and the manufacturer's reputation. Reading customer reviews and seeking recommendations can provide valuable insights into different fixtures' performance and satisfaction levels.
Budget Flexibility: While adhering to your budget is prudent, it allows flexibility to accommodate unexpected expenses or invest in higher-quality fixtures if necessary. A well-balanced budget balances frugality and the pursuit of exceptional lighting solutions.
Long-Term Value: Consider the long-term value of your investment. Quality palm tree ring lights, while potentially higher in initial cost, often provide better performance, energy efficiency, and longevity. Over time, they can save costs through reduced energy consumption and maintenance.
In the quest to enhance your outdoor oasis with palm tree ring lights, this comprehensive guide provides invaluable insights. It covers essential considerations such as lighting goals, palm tree size, control options, weather resistance, budgeting, and reputable manufacturers. When carefully balanced, these factors create a radiant outdoor haven that mirrors your vision and captivates the senses. Ultimately, your palm tree ring lights become storytellers, illuminating your outdoor space with the brilliance of your imagination and offering an enduring testament to quality, style, and sophistication.
Upward Lighting has over 13 years of experience in the LED industry, and we can offer a range of services from custom to project build. If you have any needs, please get in touch with us immediately.
Request A Palm Tree Ring Light Quote
You can receive an instant quote, or let us know what you need, and we'll get back to you promptly!