Led Underwater Fountain Lights
Manufacturer in China
Upward Lighting is a led underwater fountain light manufacturer and supplier with more than 13 years of experience in China. The led fountain lights we produce are mainly used for indoor and outdoor fountain lighting projects. Waterproof to IP68, our diverse range of monochrome and DMX RGB/RGBW color-changing led pond fountain lights. Our fountain lights come with a three-year warranty. Request a quote for your project today!
Featured Submersible Led Underwater Fountain Lights
Led underwater fountain lights to come in a variety of styles, color temperatures, and sizes. The following styles are some of our conventional products that sell well at present. If you have other special lighting or installation requirements, you can tell us, and we can customize them according to your requirements.
Submersible Led Pond Fountain Lights
Craft the perfect outdoor lighting experience with Upward Lighting's submersible led pond fountain lights! These stainless steel fixtures boast an IP68 waterproof rating – allowing them to be submerged in up 1.5 meters of water without issue. The silver color gives it a modern look while remaining incredibly energy efficient at all times. Let our expert customer service help create your dream landscape today – request a quote now!
Multi-Color Changing Underwater Led Fountain Lights
Upward Lighting's color-changing underwater led fountain lights are made of 304 stainless steel, IP68 waterproof, and 316 stainless steel can also be customized. Led fountain lights are mainly used in outdoor projects such as ponds and fountains. Led fountain underwater lights use RGB/RGBW color-changing LEDs, and the control methods include automatic control, remote control, and Dmx control, all of which provide a 3-year warranty. If you have your own ideas and designs, we can talk to see if we can realize your ideas!
12/24 Volt Low Voltage Led Fountain Lights
The 12/24 volt low voltage led fountain light from Upward Lighting is one of the safest lights you will find. When the lamp is installed in or near the water, choose an input voltage lower than 36VDC, so there will be no risk of electric shock. Our led underwater lighting material is made of IP68 waterproof stainless steel. LEDs are the most energy-efficient lighting fixtures available, with an IP68 waterproof rating for immersion in ponds, fountains, or other water elements in your outdoor landscaping. We offer a 3-year warranty, ask us for a quote for your project now!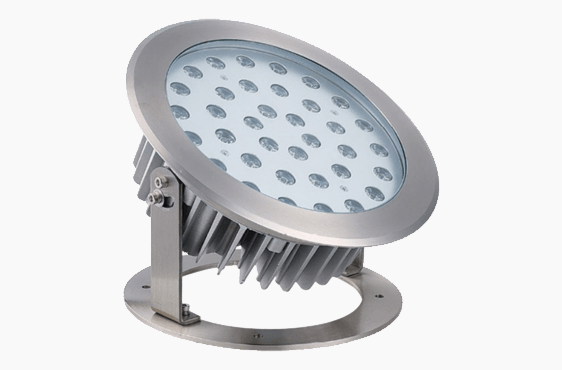 Submersible Led Pond Fountain Spotlights
Upward Lighting brings you the perfect outdoor lighting solution: their stainless steel submersible led pond fountain spotlights, crafted with only the best materials and an IP68 rating. Not only that, but its flexible design provides convenience – simply move it to adjust illumination in whatever direction suits your needs! Get wholesale prices for your outdoor projects now.
View More For Led Underwater Fountain Lights
Led underwater fountain lights can use various designs, sizes, powers, and different emitting colors. You can choose single-colored light or rgb/rgbw color-changing light, make sure you choose the one that's perfect for you!
Underwater Fountain Lights
Applications
Don't let its name fool you – submersible led underwater fountain lights aren't just for fountains. Submersible led lights provide brilliant illumination to any water feature! Crafted from high-grade materials and boasting an IP68 rating, they can be used in any aquatic part up to 1.5 meters deep.
Dry Fountains

Garden Ponds

Music Fountains

Outdoor Fountains

Dancing Fountains
Leading Led Underwater Fountain Lights Manufacturer and Supplier in China
Upward Lighting manufactures only the highest quality led underwater fountain lights. We only use high-quality 304 stainless steel material in all underwater led lamps – guarantee IP68 waterproof and watertight design – suitable for any underwater led lighting project! If you have unique requirements, please let us know, we also accept customized orders.
A Short Brief, Why Choose Upward Lighting?
Since 2009, Upward Lighting has been providing innovative lighting solutions for professionals in the architecture and landscape design industries. With decades of industry knowledge, our team is well-equipped to craft cutting-edge products that stand out from the crowd. By relentlessly pursuing excellence in led lighting, we've become renowned as one of the most reliable manufacturers China has to offer. 
Exceptional Quality Designs: Our lighting designs know no bounds – if your imagination can conjure up a concept, our experts will bring it to life. We love to push the boundaries of creativity and innovation!
Durability and functionality: Our customer service takes pride in delivering personalized experiences to each individual who contacts us. Whenever you call, you'll always be with a professional who can provide expertise and accommodate your unique requests.
Trusted customer services: Our customer service takes pride in delivering personalized experiences to each individual who contacts us. Whenever you call, you'll always be with a professional who can provide expertise and accommodate your unique requests.
What Questions Are Asked Frequently
We have compiled the frequently asked questions about our architectural floodlights for you. If you still have other concerns or questions, feel free to get in touch with our customer support. Our team of experts is always ready to assist.
What is Your MOQ For The Order?
No, we do not have a MOQ request, we accept orders with different quantities. Different quantities will be at different prices. It is flexible.
What Is The Lead Time On My Order?
Our usual lead time for submersible led underwater fountain lights is 10 to 12 business days. The shipping delivery time isn't included, so consider that when setting your deadline expectations. If a custom or bulk order it might take additional development time so build that into your timeline as well.
How Can I Get a Quote For The Lights?
Get in touch with our customer service team to get a quote for our led underwater fountain lights. They are available 24/7. Just be ready with your specifications like size, color temperature, wattage, beam angle, etc. Give us your BOQ, and we'll guide you through the rest of the process.
Can I Get a Sample Before Place The Order?
Yes, this will take 3 to 7 business days to complete. For custom orders though you may need to be patient — they take a bit longer than that.
Can You Make Customized Led Underwater Fountain Lights?
Yes, we can customize led underwater fountain lights for you. We need you to give us specific details like your design preference, power input, beam angles, wattage, etc. If you need further direction, our customer service can help you throughout the process.
The Warranty For Our Led Underwater Fountain Lights?
Quality is vital in everything that we do. This is why we are confident enough to provide our led underwater fountain lights with a 3-year warranty. You can ensure that we only use high-quality materials and that every product is 100% tested before delivering to your specified location.
Need more info about our products or company? Our team is here to help – ask away and we'll be glad to provide you with answers!
How To Buy Led Underwater Fountain Lights - The
Ultimate Buyer's Guide
Led underwater fountain lights are a type of light that you can use to make your fountains look pretty at night. They are different from other types of landscape lighting because they go under the water. So when you choose and install them, you have to do it a little bit differently.
What Are Underwater Fountain Lights?
Lights that you install under the water on hard surfaces in your fountain are called underwater fountain lights. These special waterproof lighting fixtures make it easy to appreciate the beauty of your feature even after dark. They are waterproof and help you see the fountain at night or focus on particular features of the fountain.
Underwater fountain lights add a magical touch to your pool or pond. They come in all shapes and sizes, from led lights to halogen lamps, and can be used to transform a dark and murky underwater environment into something much more inviting. Whether you're looking for a way to light up the night sky or just want to create a beautifully illuminated landscape, underwater fountain lights are the perfect solution.
Why Using Underwater Fountain Lights
Increase Interaction: Illuminate your landscape with underwater fountain lights! Not only do they add a touch of elegance, but the refracted light creates an entrancing optical illusion that might just leave onlookers mesmerized. Add beauty and movement to any space without lifting a finger – what could be more magical than that? Refraction works to bring a captivating sense of movement, creating majestic visuals that will mesmerize anyone who passes by.
Improve Aesthetics: Illumination can be a powerful tool for adding depth and atmosphere to your landscape. Strategically placed underwater lights will accentuate the beauty of your fountain, drawing attention to it as an evening centerpiece even in contrast with its darker surroundings. Transform any space into something special by brightening up the night! Strategically placed, it can accentuate the style of this centerpiece – especially during those night hours when your landscape could be an extra boost of beauty.
Enjoy the Fun Brought By Your Fountain at Night: illuminate your fountain and bring it to life after sunset! Installing underwater lights in a water feature can take the beauty of your landscape to another level at night. This is particularly important because water features can be among the more expensive elements of your landscape to buy and install. 
Enhance Safety:  In addition to adding beauty to your pool area, underwater fountain lights also provide a greater sense of safety and security. These lights illuminate the surface of the water so you can see any potential hazards in the dark-plus they make it easier for people to see each other when swimming at night. This also helps prevent accidents since everyone is more visible in darker areas around the pool. If there's ever an emergency where someone needs quick assistance -like if someone accidentally falls into the pool – having bright underwater fountain lights makes it easier for lifeguards or bystanders to spot them right away so they can be helped as quickly as possible. 
Wide Applications: Dive into the depths of creativity with underwater fountain lights! These unique lighting elements are perfect for any aquatic feature and will add a magnificent touch to your landscape. From majestic koi ponds and creeks, all the way down to tiered waterfalls – these exquisite fixtures can turn any setting into an eye-catching wonderland. With some models also can be installed in the pool or hot tub features, you'll be able to craft something truly special that stands out from the crowd, but if outside of water can be used for illumination then no worries there are plenty more options available this kind of underwater fountain lights too.
Plenty of Options: When you are looking for matching underwater fountain lights for your fountain project, you will have a lot of options as underwater fountain lights come in many styles and designs. You can choose from various elements such as the intensity of the light, the color of the light, how to control the color of the light, the appearance/color of the light fixture, etc.
Waterproof As IP68: No need to worry about potential damage from water in the fountain when you purchase a specially-designed light for underwater use. With this type of underwater lighting fixture, your peace of mind is ensured knowing that it has been constructed with an impenetrable seal and will stand up to any aquatic environment!
Types of Underwater Fountain Lights
Underwater fountain lights come in many different varieties, so it's important to know which type best suits your needs. Halogen lamps are one of the most popular options because they produce bright white light that can be seen even when submerged underwater. Led lights are also becoming increasingly popular as they offer great energy efficiency and last much longer than traditional incandescent bulbs. Finally, fiber optic lights have become very popular in recent years due to their ability to produce stunning lighting effects that can be seen both above and below water.
Led Underwater Fountain Lights Applications
Led underwater fountain lights to bring a delightful sparkle to any outdoor water feature, can provide the perfect accent to any residential or commercial property with an aquatic feature. Whether it be a pond, swimming pool, birdbath-or even just a plain fountain, led lighting provides an attractive and cost-effective way, because they are popular anywhere there is a water feature.
How to Choose Underwater Fountain Lights?
1. Where You Will Install Water Fountain Led Lights.
When your project needs to use underwater fountain lights, you must know the specific installation location of these lights. Generally speaking, under different water quality, the material of the lamp body will be slightly different. Make sure the product you choose is approved for its intended use; as certain chemicals and minerals found in each case can affect which type of lighting works best. Installed in fountains, ponds, waterfalls, creeks, or pools can use 304 stainless steel, but installed in seawater or seaside areas, it is best to use 316 stainless steel because seawater has a high salt content and is more corrosive.
Normally, commercially available underwater lights are waterproof and safe to use underwater. But before buying, it is still necessary to confirm carefully that the input voltage of the lamp used in the water should not exceed 36V. It is also especially important to note whether there is a maximum depth requirement, as the pressure of the water increases as the water sinks, and not all lights can withstand the same pressure. In addition, it is also necessary to confirm whether waterproof means that it can be used underwater. Because some lights are said to be waterproof, but they can only reach the IP65 rainproof level, not yet waterproof to the level of IP68 that can be completely submerged.
With so many material options for underwater fountain lighting, choosing the right one can be a difficult decision. However, stainless steel and brass prove to be the best for various reasons. Both of these metals are well adapted to underwater without corrosion, allowing you to better choose suitable outdoor underwater lights.
Different lights look different, and you can choose a single specific color, such as warm white, cool white, green, blue, purple, or red. If you don't know which color to choose, or you want to change the color in the future, we suggest you choose rgb or rgbw, this combination can be mixed into any color you want, rich and colorful.
With the dazzling array of lighting fixtures to choose from, make sure you select one that matches your preferences and can handle all the wattage you need. Carefully consider its maximum power handling capacity before making a decision!
How to Install Underwater Fountain Lights
Installing underwater fountain lights isn't too difficult, but there are still some important steps you need to take in order to ensure a successful installation. First of all, you will need to make sure that the wiring is properly secured so that it doesn't get damaged by water or corrosion over time. Next, you should also make sure that the power source is strong enough for your particular light fixture so that it won't overload or cause any safety hazards. Finally, you should always read through the manufacturer's instructions before beginning any installation process in order to familiarize yourself with how everything works and what materials may be necessary for proper installation.
1. Where the Lights Will be Installed?
While planning to install your underwater fountain lighting, carefully consider the positioning of lights and types desired. Consider where you'd like the lighting placed, which type best suits your needs, and how many should be installed. Consider the type of light and how many would provide just enough illumination without leading to harsh glare by aiming directly at the water's surface.
Be sure to double-check that all components are correctly placed before and during installation. It cannot be overstated how important it is to ensure all components are properly aligned before installation. However, for a watertight seal, you must make sure the parts stay correctly positioned throughout the entire process – take a moment before installing and during just to double-check again!
3. Installed When Fountains Dry Up And Power Cuts
Installing underwater fountain lights requires extra attention to detail. For your safety, complete the installation process while the fountain is dry and with the power disconnected. Dry fittings are essential to avoid any potential electrical problems until an air-tight connection is made between the fountain and the lights. The purpose of disconnecting the power supply is to avoid the risk of electric shock due to misoperation during installation.
4. Consider Whether Need Professional Installers.
Unsure about taking on the installation of underwater lights for your fountain? Installing fountain lights may seem like a straightforward task, but due to the complex structure of underwater lighting fixtures, it's important you weigh your experience level and decide between self-installation or hiring an expert. A professional installation maximizes safety while ensuring that all connections are secure and watertight – remember that incorrect installations might put you at risk due to less room for error with these particular lighting fixtures.
Tips To Purchase Led Underwater FountainLights From China
China is a great source for purchasing led underwater fountain lights. They are generally cheaper than what you'll find in stores, plus you can get a variety of designs and features that you may not be able to find elsewhere. To help you make the best purchase decision, here's a guide on how to buy led underwater fountain lights from China.
Begin by researching led underwater fountain lights available in China. You can either search online or visit trade shows in your area. Many Chinese manufacturers have websites that provide detailed information about their products and services, so take the time to read through them carefully before making a purchase decision. In addition, there are many online forums where people discuss different aspects of buying led underwater fountain lights from China, so these are also worth exploring.
Next, contact the manufacturer directly to ask questions and learn more about their products and services. Once you've narrowed down your list of potential suppliers, it's time to find a reputable one. Be sure to research their credentials, customer service record, and product quality before making a decision. Look for companies with good feedback ratings and plenty of positive customer reviews. Also, pay attention to how quickly they respond to inquiries—you don't want to go with a supplier who takes forever to answer questions or respond to complaints. When possible, arrange for a factory tour so that you can see firsthand how the product is made and inspect the quality control measures taken by the manufacturer. If possible, review samples of their product before ordering large quantities so that you know exactly what to expect when it arrives. Also, inquire about warranties and money-back guarantees offered by each seller before committing to any specific company or product line.
Finally, once you've found a suitable manufacturer for your underwater fountain lights, it's time to place your order. Consider your payment options when buying led underwater fountain lights from China. Most Chinese manufacturers accept PayPal as well as wire transfers or credit card payments but are sure to check with each seller beforehand for their preferred method of payment. Additionally, if possible try to negotiate free shipping or other discounts for bulk purchases so that you can save even more money on your order overall. Make sure that you understand all of the terms and conditions before committing—read through the shipping policy carefully so that you know exactly when your lights will arrive and what type of delivery options are available. It's also important to make sure that there is a clear return policy in place—it should be easy for customers to return items if they are not satisfied with their purchase.
Purchasing led underwater fountain lights from China requires careful consideration and planning to ensure a successful transaction. By following the steps outlined above, you can find reliable suppliers, negotiate favorable terms, and receive high-quality lights that meet your specific needs and requirements. Additionally, it's important to keep in mind that purchasing from overseas suppliers can come with additional challenges such as communication barriers, longer lead times, and possible cultural differences. To mitigate these risks, it's important to work with a reputable supplier and to clearly communicate your requirements and expectations.
Overall, purchasing led underwater fountain lights from China can be a cost-effective solution for those who want to enhance their underwater environment with the latest in lighting technology. With the right preparation and due diligence, you can ensure that your investment pays off in terms of quality, performance, and durability. Whether you are looking to create a relaxing atmosphere in your pool or spa, or simply want to enjoy your underwater surroundings at night, led underwater fountain lights can be a valuable addition to your home or commercial setting.
If you're looking for a quality led light at a good price, then purchasing from China is a great option. Keep in mind the tips we've discussed in this blog post, and you'll be sure to find a reliable supplier who can provide you with the high-quality products you need.
After reading this post, hopefully, you now know how to purchase led underwater fountain lights from China. If you have any questions or need help getting started, feel free to contact us. We're always happy to help! Contact Us Today!
Why Buy Led Underwater Fountain Lights from
Upward Lighting in China?
Upward Lighting is a manufacturer of led outdoor lighting with 13 years of production experience in China. Our engineering team works closely with the production department to deliver products to our customers on time and in accordance with quality and quantity. All the parts it uses, including the underwater fountain lights, have been thoroughly inspected, 100% product testing before shipment, and CE and RoHS certified.